PREFER AN ONLINE PRIVATE CONCERT?
If you are more comfortable watching a David Leask concert online, bring friends and family together from across town or around the world through the power of music and technology - part house concert, part hootenanny - make requests & create heartfelt memories together without leaving home!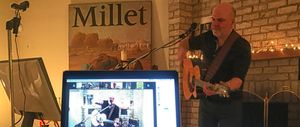 WHAT IS AN ONLINE PRIVATE CONCERT?
An online service presenting a private concert performance with David Leask broadcasting directly into your home.  It's a mixture of cover tunes and originals - part house concert, part hootenanny, you can request your favourite songs in advance and David will also choose a few tunes spontaneously to keep it "in the moment".
HOW DO WE DO IT?
Concerts are hosted on the Zoom platform and you will be sent a private access link.  The concert Zoom room opens 15 minutes beforehand for everyone to arrive and get a chance to say hello before the concert starts.
HOW MUCH DOES IT COST?
The fee for a private online concert is $60 +HST ($67.80) for each 30 minute segment. You can choose the length of your concert by adding additional segments.  For example, two segments for a 1 hour concert or 3 segments for 90 mins which can be split into two 45 minute sets.  
HOW MANY PEOPLE CAN ATTEND?
Each 30 minute segment is for 1 household location only.  You can add more household locations to your concert for $10 + HST ($11.30) per household for each 30 minute segment. For example, a 1 hour concert with 3 households would cost $160 + HST ($180.80). 
CAN I BOOK AN ONLINE CONCERT FOR A LARGER CORPORATE EVENT?
For larger events such as conferences or corporate gatherings, contact David to discuss options.
WHAT EQUIPMENT & SOFTWARE DO I NEED?
To enjoy the concert at the best quality it is recommended that you have high speed internet. The concert can be streamed on everything from a smartphone, tablet, laptop or smart TV, whatever is your preference! It is also advisable to download the free Zoom software to your device if you have not already done so.
WHAT IS THE BEST WAY TO SET UP MY COMPUTER FOR OPTIMUM SOUND?
Live music is meant to be experienced with a great sound system.  While we don't expect you to have the same amplification as Woodstock, if you have a good sound system at home or even a bluetooth speaker, you can connect it to your smart tv, computer or tablet or even a good set of headphones if you're watching the concert on your own.  It's naturally going to translate better. 
THAT ALL SOUNDS GREAT, HOW DO I MAKE IT HAPPEN?
Using the order buttons, choose how many 30 minute units you want to order and add on extra households if you need them.  On the checkout page use the notes section to request your date and time preference and we'll do our best to accommodate.  You can also include some special song requests.  Other songs performed will be chosen spontaneously by David.
Please order well in advance to ensure availability and select your preferred time slot in the notes section when you place your order.  You'll be sent a confirmation email with all the details and the zoom link will be sent on the day of the concert.  
TESTIMONIALS
"What a fantastic idea to have your own private LIVE concert from the comfort of your own living room during these difficult times. Our concert linked 4 households (22-74 yrs old!) and everyone loved the selection of the music and the flow of the evening."  Pam M.

"We enjoyed every moment of David's virtual home concert. The sound was excellent. The online booking and technology requirements were easy.   All we had to do was sit back and enjoy the entertainment. " Norine G
 
Thank you for the wonderful concert last evening.  I thoroughly enjoyed listening to your music and stories. The song selection was perfect and it was fabulous to connect with friends from coast to coast.  Marie L.